News
May 14, 2008
Competition to win a Speed Racer poster signed by Emile:
http://www.lastbroadcast.co.uk/movies/v/4509-speed-racer-competition.html

Interview with Emile about Speed Racer:
http://www.lastbroadcast.co.uk/movies/v/4506-emile-hirsch-speed-racer-interview.html

A feature on the making of Speed Racer:
http://www.lastbroadcast.co.uk/movies/v/4250-speed-racer-the-making-of-the-movie.html

May 12, 2008
Here is a link to Emile's profile at Askmen.com:


May 10, 2008
Here's an awesome interview w/ Emile and some good pics from The Cinema Source.
Here's a link to see the "Speed Racer" 7 minute preview! Enjoy :)
May 8, 2008

I've added some new pics and I also added some new videos as well!
Be sure to see "Speed Racer" on Friday!!!
Enjoy!

Lindsay

Heres a fabulous article as well:


David LaChapelle photo shoot w/ Emile and article!
April 20, 2008

Here's an awesome article with a bunch of new pics of Emile!!!

March 18, 2008
Here are some videos to check out, enjoy!
A couple pics and affiliates have been added as well :)
March 12, 2008
The new "Speed Racer" Trailer will be released on Yahoo! tonight be sure to check it out!
Also "Speed Racer" will be released in the IMAX as well as regular theaters on May 9!
February 10, 2008
Hello Everyone! Sorry for the lack of updates; I am working on a new Emile site! I have also been working on another website for the actor Joey Kern:
Be sure to check it out! Once I finish the new Emile Site I will try to update everyday like I did before!
-Lindsay
January 27, 2008
I've added a couple of videos and also Sunny has added some awesome pics in her gallery( the link is on the photos page).
I will be adding some pics and stuff from the SAG awards this evening!!!
January 24, 2008
Here are some articles about Emile that you might find interesting:
Heres a hot mag scan: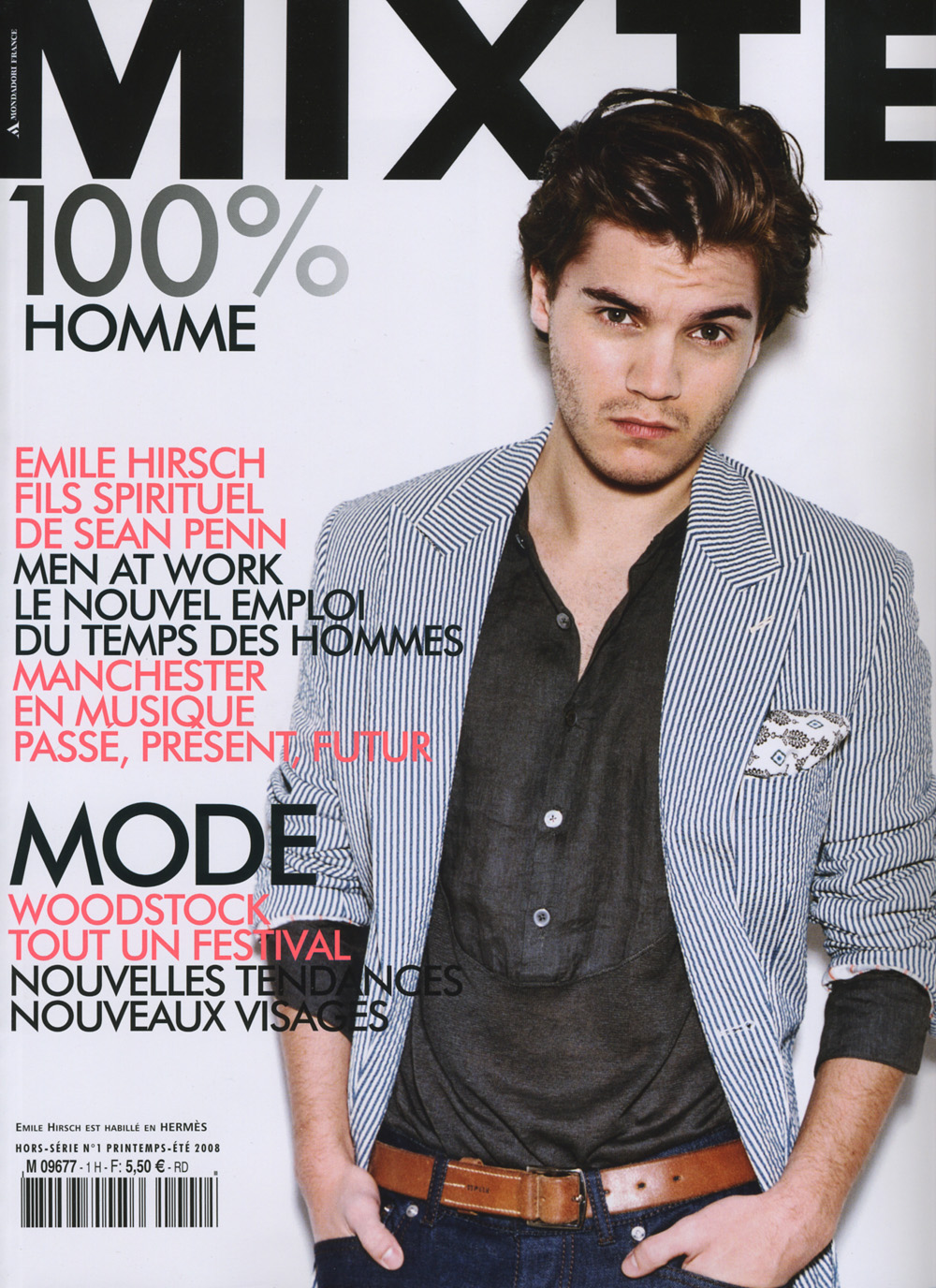 Lunch With David video Interview:
January 21, 2008
Check out the new photos added! And also check out the link to Sunny's awesome Emile gallery. There are always a lot of rare pics on there!
If anyone ever wants to donate pics to the site feel free to contact me!
chewingummm@hotmail.com
January 18, 2008
Juno, Into The Wild, The Diving Bell & The Butterfly, Blades Of Glory and Ocean's Thirteen will battle it out to win the top prize at the 10th annual Costume Designers Guild Awards.
Hopefully ITW will win!
source: Starpulse.com
January 11, 2008
INTO THE WILD ORIGINAL SCORE
TO BE RELEASED BY LAKESHORE RECORDS
"From seductive start to shattering finish, the film is as stirring, entertaining and steadfastly thrilling as it is beautiful" -- Wall Street Journal
(December 11, 2007- Los Angeles, CA) – Lakeshore Records will release the original motion picture score, composed by Michael Brook, for INTO THE WILD on December 18, 2007. The release will be available exclusively through iTunes.
Michael Brook is a guitarist and composer. In the 80s Brook worked as an engineer at Daniel Lanois' studio. His first solo album was released in 1985 and featured contributions from Lanois and musical iconoclast Brian Eno. His work on the Michael Mann film HEAT led to Brook composing the music for the Kevin Spacey-directed film ALBINO ALLIGATOR.
Brook's recent projects include the Academy Award-winning, global warming documentary AN INCONVENIENT TRUTH, for which Brook wrote the original music and produced soundtrack. As a guitarist, Brook contributed to the soundtracks for BLACK HAWK DOWN, MISSION: IMPOSSIBLE 2, and THE PLEDGE.
Freshly graduated from college with a promising future ahead, 22 year-old Christopher McCandless (Emile Hirsch) instead walked out of his privileged life and into the wild in search of adventure. What happened to him on the way transformed this young wanderer into an enduring symbol for countless people. Was Christopher McCandless a heroic adventurer or a naive idealist, a rebellious 1990s Thoreau or another lost American son, a fearless risk-taker or a tragic figure who wrestled with the precarious balance between man and nature?

Each strand of his journey is woven into Sean Penn's screen adaptation of Jon Krakauer's acclaimed bestseller, INTO THE WILD, which is as much about the insatiable yearning for family, home and connection as it is the search for truth and happiness.
Paramount Vantage and River Road Entertainment present INTO THE WILD, currently in theaters. The Lakeshore Records recording, featuring the score by Michael Brook will be available exclusively through iTunes on December 18, 2007.
###
For more information contact:cinemediapromo@yahoo.com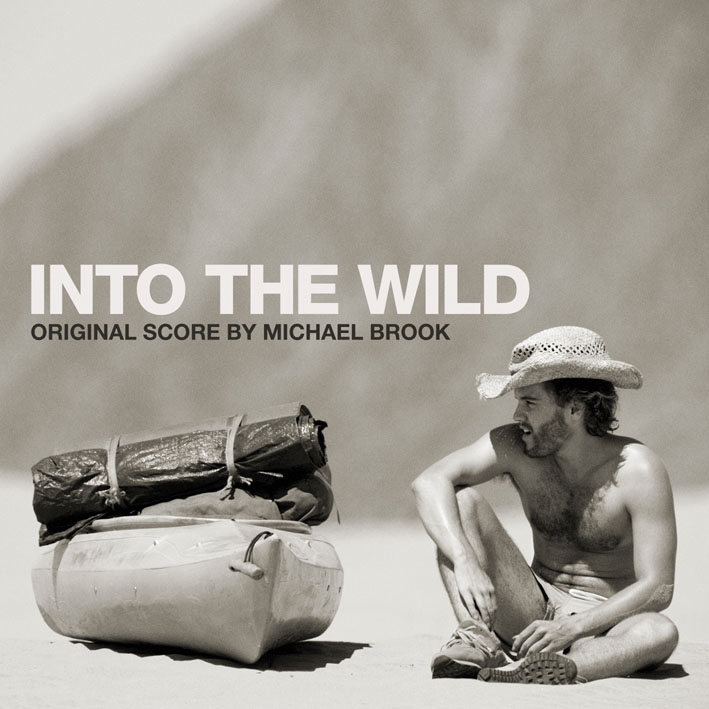 November 18, 2007
Here are scans of the articles: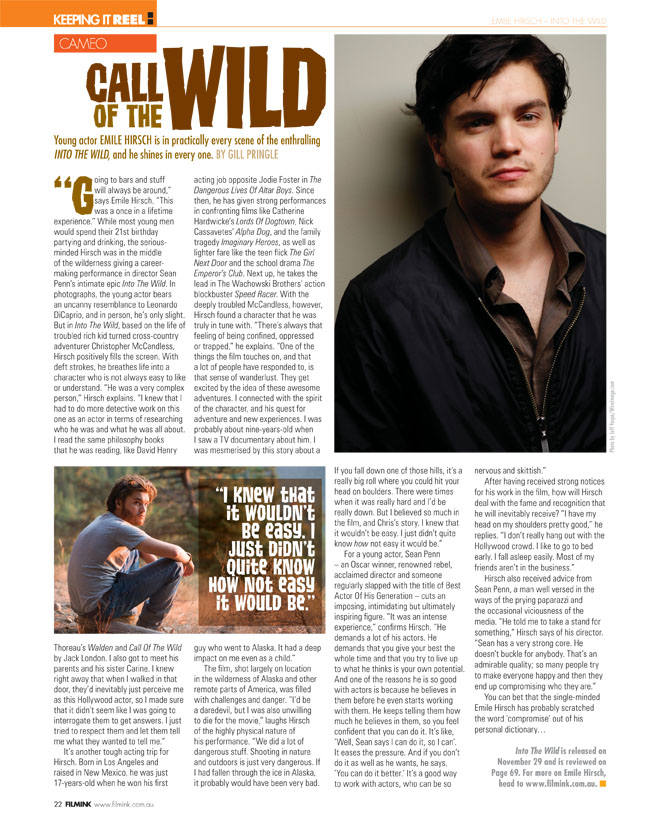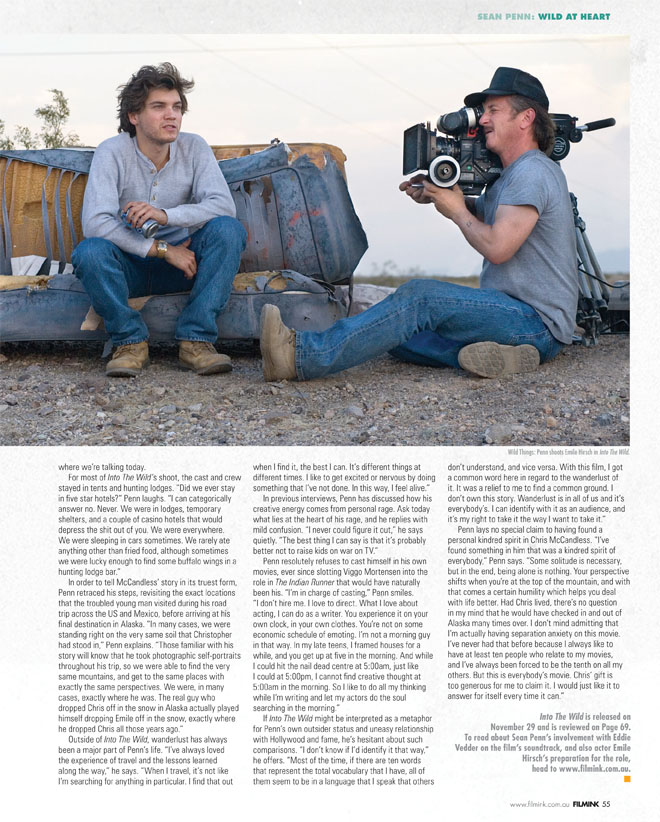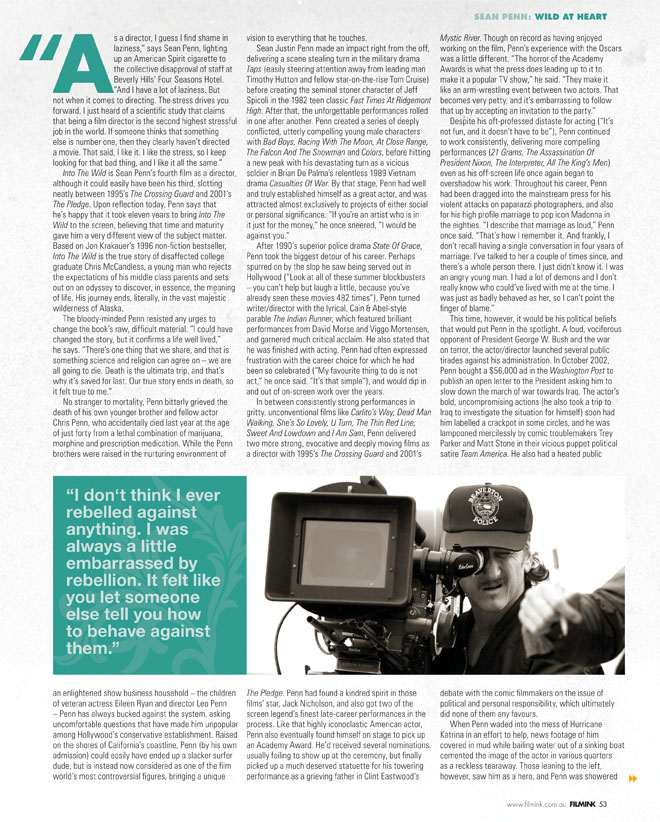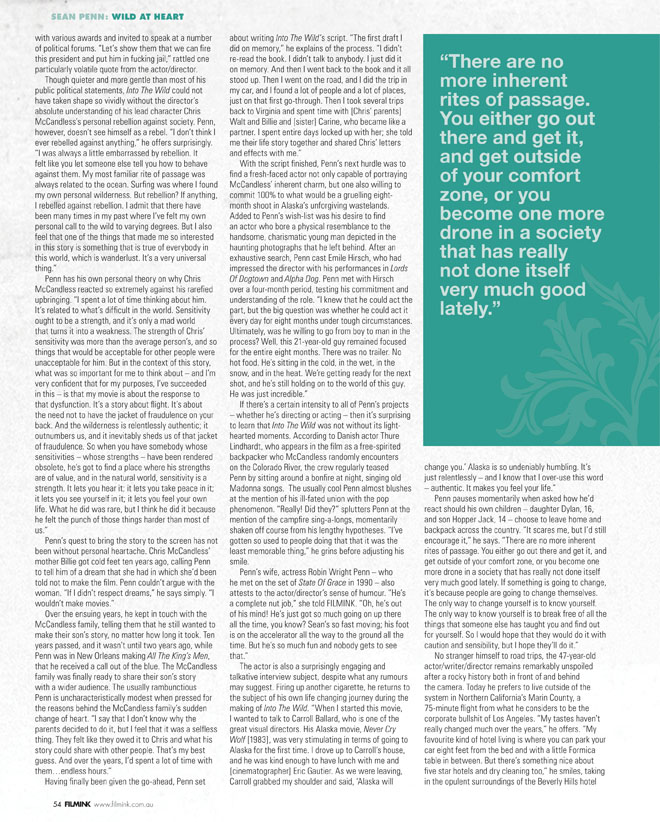 October 11, 2007
Here are some more great updates:
Charle Rose's conversation with Emile:
Click here to watch Emile on Conan:
Emile on TRL added to the photos page!
Here are three vids:
Emile on David Letterman:
Emile on 'Sneak Peek:'
And on Brightcove:
Here is a scan of Emile in Rolling Stone, thanks Sunny!!!!
*Click to see actual size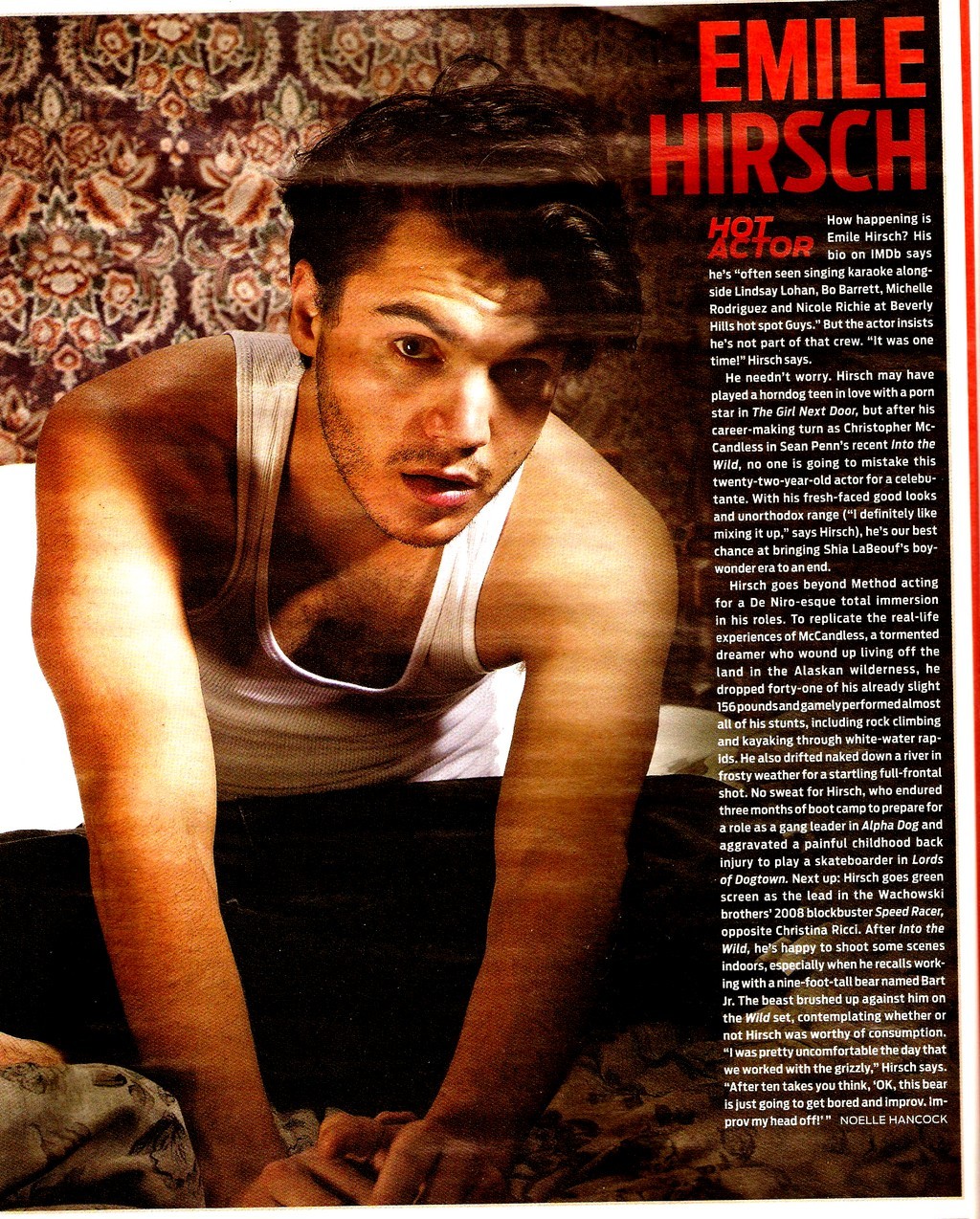 September 21, 2007
More News!
1. Here's a link to an Interview:
2. This is a link to an interview and video from the New York Times:
3. Here are some exclusive photos of Emile at a Q&A in LA!
Photos by Ken Adams
*Click to see actual size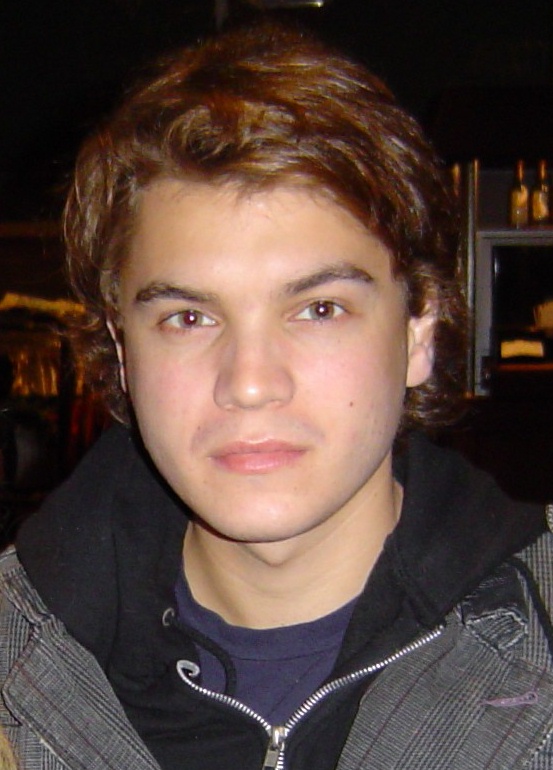 New Pics From British Mag "Dazed and Confused" May 2007
-Thanks to Sophie :)